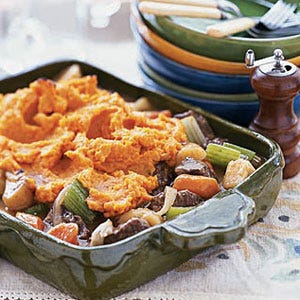 Mark Thomas
Cal/Serv:
488
Yields:

8
Prep Time:

0

hours

45

mins


Total Time:

1

hour

35

mins


1 1/2
lb.

1-in. cubes beef chuck (for stew)
1/4
c.

all-purpose flour
1 1/2
tbsp.

vegetable oil
2

can beef broth
1

large onion
1
tbsp.

minced garlic
3
lb.

small sweet potatoes
1
lb.

each carrots and parsnips
3

ribs celery
1
tbsp.

stick butter
1/4
tsp.

salt
Position racks to divide oven in thirds. Heat to 325°F.
Coat beef with flour. Heat oil in a Dutch oven over medium-high heat. Add beef and brown. Add broth, onion and garlic; bring to a boil. Cover tightly and place stew on one oven rack, potatoes on other rack. Bake 30 minutes.
Cut carrots, parsnips and celery into 1-in. lengths; stir into stew. Cover and bake 45 minutes or until tender when pierced.
Peel potatoes and mash with butter and salt. Bake and serve or cool, cover separately and refrigerate up to 3 days.
To serve: Heat oven to 400°F. Skim fat off stew, then spoon into a shallow 3 1/2-qt baking dish; spread potatoes over top. Bake 50 minutes or until bubbly around edges and hot in center.
Mark Thomas
This content is created and maintained by a third party, and imported onto this page to help users provide their email addresses. You may be able to find more information about this and similar content at piano.io
sweet potatoes 1 lb. each…" />