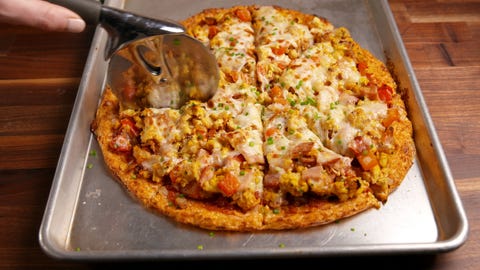 Chelsea Lupkin
A loaded low-carb breakfast pizza for all you cauliflower fanatics.
Yields:

4
Prep Time:

0

hours

25

mins


Total Time:

0

hours

55

mins


1

large head cauliflower
8

large eggs, divided
1
c.

shredded white Cheddar
2

cloves garlic, minced
1
tsp.

paprika
kosher salt
Freshly ground black pepper
1
tbsp.

extra-virgin olive oil
1

large onion
2

red bell peppers, chopped
1
c.

ham
1 1/2
c.

Shredded Monterey Jack
Freshly chopped chives, for garnish
Preheat oven to 425º and line a baking sheet with parchment. Grate cauliflower on small side of box grater to form fine crumbs. Transfer to a large bowl.
To bowl add 2 eggs, white cheddar, garlic, and paprika and season with salt and pepper. Stir until combined.
Transfer dough to prepared baking sheet and pat into a crust. Bake until golden and dried out, 25 minutes.
Meanwhile, in a large skillet over medium heat, heat oil. Add onion and peppers and cook until soft, 8 minutes. Stir in ham. In a small bowl, whisk together remaining 6 eggs and season with salt and pepper. Pour eggs into skillet and scramble, 3 minutes.
Remove cauliflower crust from oven and heat broiler. Spread a thin layer of salsa on top. Top with scrambled eggs and Monterey jack.
Broil until cheese is golden, 2 minutes.
Garnish with chives and serve.
Chelsea Lupkin
This content is created and maintained by a third party, and imported onto this page to help users provide their email addresses. You may be able to find more information about this and similar content at piano.io
white Cheddar 2 cloves garlic, minced 1 tsp. paprika kosher salt Freshly ground black pepper 1 tbsp. extra-virgin…" />