Change language / Schimba limba:


Română
Here's how to make the popular Greek moussaka recipe – vegan! This delicious vegan eggplant casserole will surely become one of your favorite meals! 
Moussaka is a world-known recipe and for a great reason – it's delicious! It's basically a very filling and delicious casserole that has different variations depending on the country. There are many types of moussaka recipes, but today I decided to veganize the Greek version (eggplant casserole).
The authentic Greek moussaka recipe is created with minced beef or lamb meat (or a combination of the two) prepared in a pan together with spices and tomato sauce. The composition is then layered with eggplant and sometimes even potatoes and on top of everything you add another layer of Bechamel sauce or potato puree. This Greek eggplant casserole is then baked in the oven until it has a beautiful golden color. I recommend serving it together with a glass of good red wine, for the most exquisite blend of flavors.
If you want to create the authentic recipe, one of the essential steps for this is preparing the meat sauce, because you have to perfectly sautée the meat together with onions, olive oil, garlic, tomato sauce and special spices in order to achieve a soft mixture that has a very specific taste and texture. For this, you have to leave the meat to soak in all the magical Greek flavors.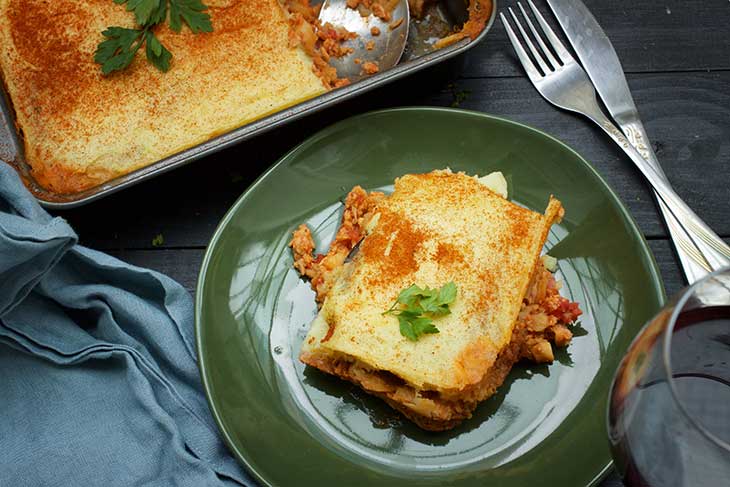 In some parts of Greece, you can find very different moussaka recipes that use zucchini, artichokes or potatoes instead of eggplant. I personally think the eggplant casserole is the best moussaka version. Eggplants are full of flavor and beneficial nutrients such as vitamins (B1, B6, K), copper, fibers and more! One of the best things about eggplants is that they're extremely versatile, so you can create various delicious recipes with them.
Some variations of the moussaka recipe also use slices of potatoes for the layering together with the eggplant in order to achieve a more filling dish. You can add potatoes as the first layer of the casserole, or you can stick to the original recipe that only uses eggplant and the minced meat mixture.
The original recipe uses fried eggplant but if you want to create the healthier version (like I did), you can bake the eggplant together with some salt (which will remove the bitterness and excess moisture) and olive oil.
For the vegan version of this recipe, I replaced the minced meat with a mixture of Oyster mushrooms and soy chunks, sautéed together with smoked paprika, salt, pepper and tomato paste. I usually use oyster mushrooms or TSP chunks whenever I want to mimic the taste and texture of meat, but the combination of these two is absolutely incredible! I'm sure this moussaka recipe can trick even omnivores into thinking it's not vegan!
Moussaka is a great dish for any time of the yeat. This is a comforting meal that you can share with the entire family. You can prepare a big casserole, cut it into individual pieces and keep it for the next days – the perfect meal prep recipe!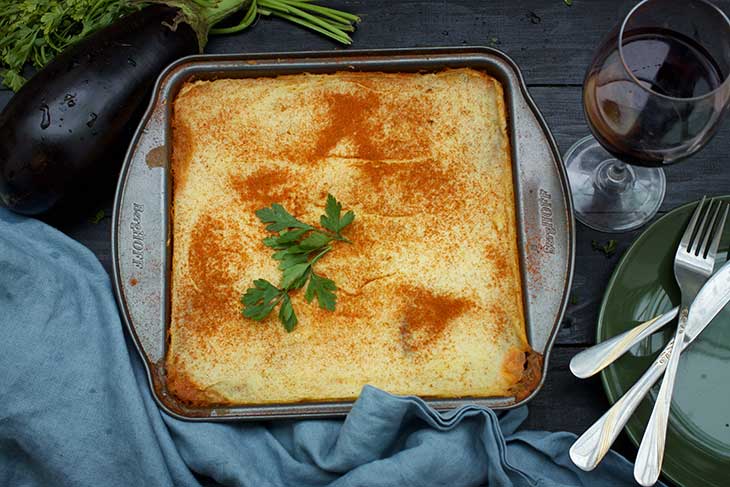 Prep Time
15 minutes
Cook Time
1 hour
Total Time
1 hour 15 minutes
Ingredients
1 Tbsp olive oil
3 large potatoes, peeled, cubed
1 clove garlic, minced
2 medium eggplants, sliced
500g (6 cups) oyster mushrooms, chopped
100g (1 cup) textured soy protein granules
180g (1 cup) plum tomatoes, chopped
1 Tbsp tomato paste
1 large onion, chopped
½ tsp smoked paprika
pinch nutmeg
1 Tbsp vegan butter
salt and pepper, to taste
Instructions
In a medium pot, add the peeled potatoes with a pinch of salt. Cover with water and bring to boil. Once it starts boiling, turn the heat to low and cook the potatoes until soft, for about 15 minutes. Drain the water, but save 1 cup. Add the minced garlic clove into the pot and puree the potatoes using a hand mixer, directly into the pot. Add a little bit of water if needed. Add vegan butter, nutmeg, salt and pepper to taste. Mix until smooth and fluffy.
Meanwhile, add the TSP chunks or granules to a bowl. Add the smoked paprika, a pinch of salt and pepper and cover with boiling water. Let them soak for about 10 minutes. Drain them well.
Preheat the oven to 200C.
Line a baking tray with parchment paper, drizzle with a little oil and layer sliced eggplants in a single layer. Sprinkle them with salt and pepper and bake about 15 minutes.
Heat a large pan on medium heat. Add the chopped onion and saute for about 3 minutes.
Add chopped mushrooms and continue to cook for about 10 minutes, stirring occasionally.
Add tomatoes and stir in the tomato paste. Mix to incorporate all ingredients. Add the cooked TSP chunks and granules. Add salt and pepper to taste and set aside.
Using a baking dish, layer the bottom with the baked eggplant slices, top with the mushroom filling, cover with one more layer of eggplant slices and top with the mashed potatoes.
Bake for about 30 minutes or until lightly golden on top.
Sprinkle with smoked paprika and serve with a glass of red wine.
Nutrition Information
Yield
6
Amount Per Serving
Calories 240Total Fat 4gCarbohydrates 35.4gProtein 15.8g