These Healthy Chocolate Protein Bites have a secret ingredient that makes them creamy! They are smooth, low carb, fudgy chocolate treats made with protein powder and healthy fats to keep the chocolate cravings at bay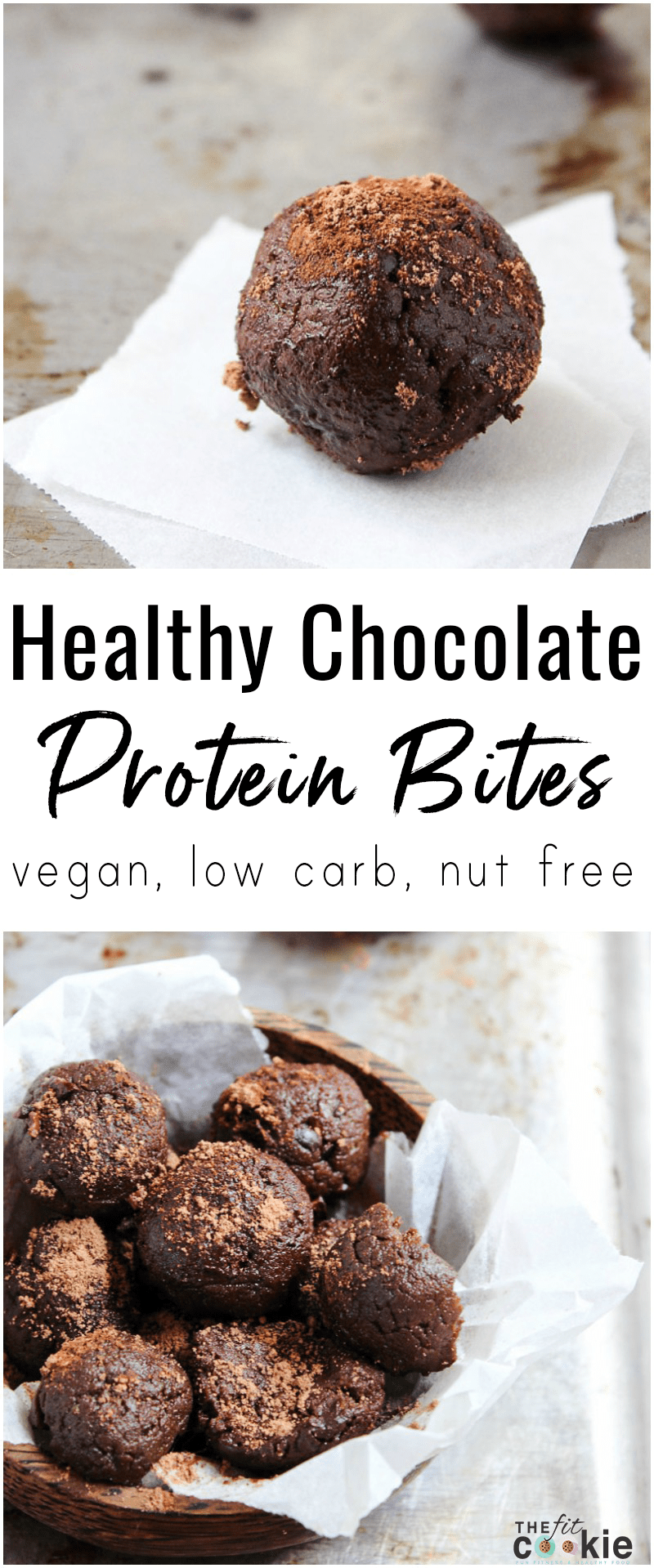 Are you a nester or a hunter?? Personally, I am a nester…
I've always had a love/hate relationship with chocolate. I absolutely love it, but my jeans (solidly supported by my lack of will power) hate it…
But during Easter, all bets are off. I held out as long as I could before I was sucked into the vortex of bright, sparkling 'buy me' Easter wrappers and allure of freshly cooked hot cross buns. Let me just say, that wasn't very long though!
I think I have eaten more chocolate in the last few weeks than I had in the 6 months previous combined. That is a lot of chocolate… and I am not done yet! Easter morning will come, Mum will have mine and my sister's little 'nests' prepared full of our favorite eggs (how lucky, no effort in hunting for them for us!) and then I will sit down to breakfast #1 of chocolate eggs… probably followed shortly after by something a little more breakfast worthy.
In the midst of all of this delectable sugar-filled gorging, I knew the time would come when I needed to ween myself off the sweet stuff… just a little. These are my go-to, 'I could eat an entire block of chocolate but want to stay healthy' answer: they are smooth, rich, chocolatey, and can be as sweet or as bitter as you like.
These Chocolate Protein Bites are fabulous for the getting back into a healthy routine (you know, the one where chocolate isn't for breakfast) and fabulous little snacks to have pre prepared in the fridge for when the snack attack monster hits. Made with avocado and protein powder, they are full of healthy fats and protein to give you energy and fill you up.
Check out our other protein bite recipes:
Fudgy Brownie Protein Bites
Strawberry Oat Protein Bites
Coffee Chocolate Chip Protein Bites
Healthy Chocolate Protein Bites (Vegan)
Orange Poppyseed Protein Bites (Vegan)
Pumpkin Chocolate Chip Protein Bites
Cranberry Chia Protein Bites
Espresso Hemp Protein Bites
Chai Spice Protein Bites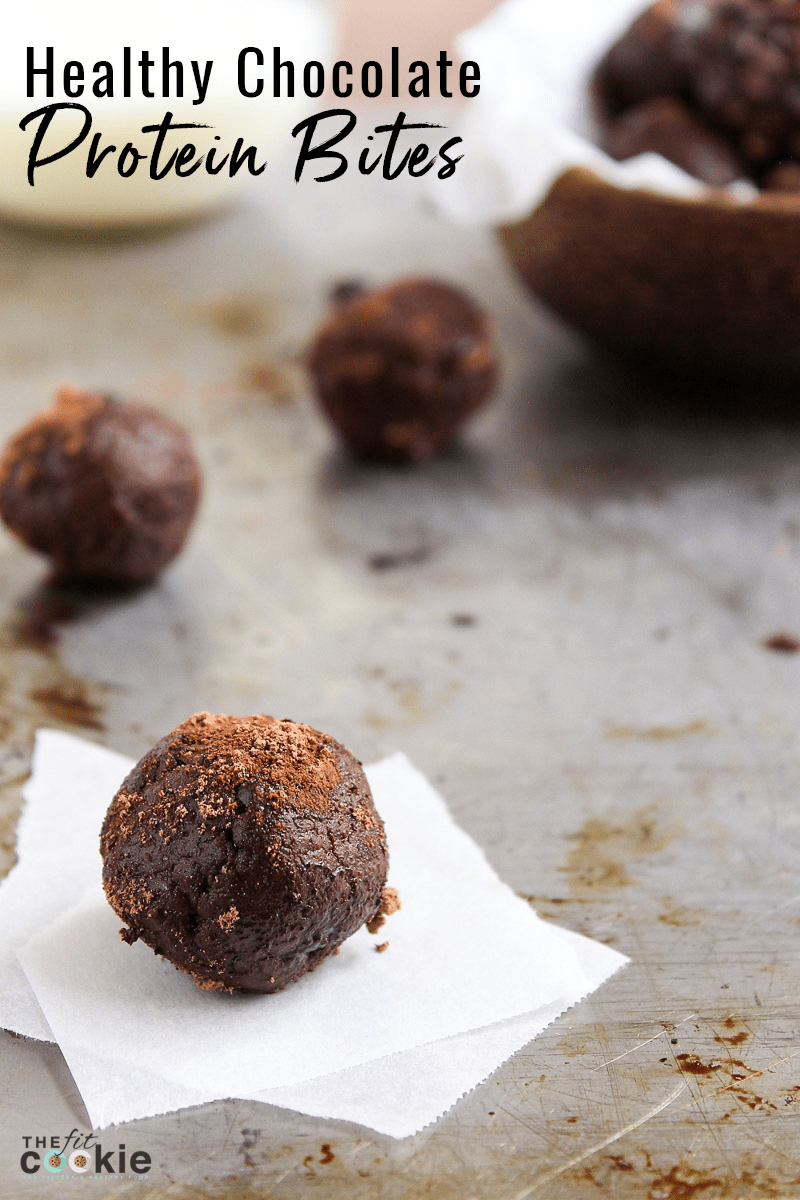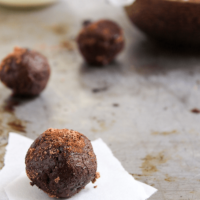 In a small food processor or with a hand blender, process the avocado, peanut butter, vanilla and salt until smooth.

Add the protein powder, cocoa powder, and chocolate chips, and pulse until a 'dough' is formed. Add extra cacao powder or protein powder if it is too wet (this will depend on the avocado and protein powder)

Taste and then add Stevia drops to make it sweeter if desired. This will depend on the sweetness of your protein powder.

Take small Tablespoons of dough and roll into balls. Roll in the additional cocoa powder (if desired). Store in the fridge in an airtight container for up to 3 days.
Calories: 46kcal | Carbohydrates: 2g | Protein: 2g | Fat: 2g | Saturated Fat: 0g | Polyunsaturated Fat: 0g | Monounsaturated Fat: 0g | Trans Fat: 0g | Cholesterol: 0mg | Sodium: 9mg | Potassium: 87mg | Fiber: 1g | Sugar: 1g | Vitamin A: 25IU | Vitamin C: 1.7mg | Calcium: 3mg | Iron: 0.2mg
Kirsten Burrows is the former co-owner and photographer behind the recipe website Treat Yourself Sweeter. She lives in Melbourne, Australia, and works as a school teacher.