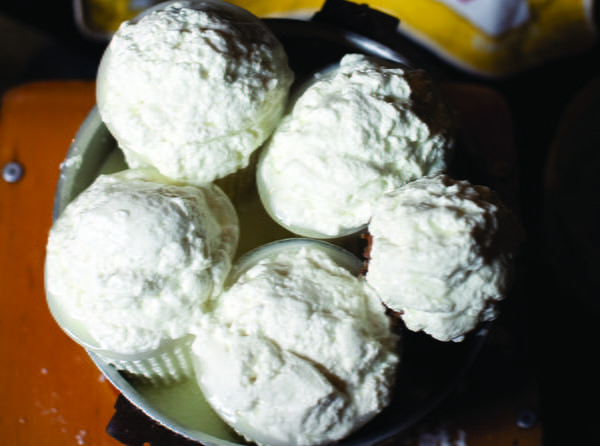 This image courtesy of Sarah Remington
This recipe most closely duplicates the creamy texture and rich taste of the ricotta I grew up with, the ricotta my father made daily. In Southern Italy, ricotta is a byproduct of pecorino cheese production. Dairy farmers like my father would reheat the whey drained from the pecorino, often with some fresh milk added, to coagulate the remaining bits of nutritious protein in the whey. ("Ricotta" means "recooked.") Whatever ricotta my father didn't sell fresh, on the day it was made, he would salt and age to make ricotta salata. These cheeses would be stored on a rack suspended from the ceiling beams, directly over the hearth, and they would dry and become lightly smoked as they aged. Ricotta affumicata (smoked ricotta) is still a Calabrian specialty, delicious grated on pasta or eaten as a table cheese.
Fresh, warm ricotta on crusty bread is a favorite Calabrian breakfast or snack. My children love it with honey on top, or for dessert with bits of bittersweet chocolate and sugar. Most people no longer have the luxury of tasting warm ricotta, however, because production has become industrialized. With this recipe, you can have that experience in your own kitchen.
In Calabria, fresh ricotta is often sold in the perforated plastic basket it drained in. At home, you invert the basket, revealing a cheese with an attractive shape that's easy to slice. Ricotta made on the farm is sometimes packed and sold in small, tubular baskets hand woven from a sturdy dried grass called giunco (Juncus depauperatus). The baskets hold about 2 cups (450 grams), but they are always generously mounded on top, so they look almost like ice cream cones.
When my father was young, in the days before plastic wrap, cheese makers would lay wild fern leaves on top of the molded ricotta, criss-crossing them to cover it, and then tie the leaves in place with a strip of giunco. At serving time, you removed the fern leaves, twisted the tubular basket as if you were wringing out a towel, and the ricotta emerged in a log shape. Although the giunco baskets aren't available here (and are disappearing in Calabria), the plastic draining baskets are not hard to find. (See Notes). They aren't essential—you can drain ricotta in a sieve-but they give your ricotta a more professional appearance.
When my mother and I initially developed this recipe, we were trying to duplicate the richness of sheep's milk ricotta. That's why we enriched the milk with a little cream. Although I frowned on the idea for a long time, I finally made the ricotta with low-fat (2 percent) milk only and was surprised by the good results. The low-fat ricotta is light on the tongue, without the richness of the full-fat version, but still better than anything you can buy. If you are calorie- or fat-conscious, you can successfully make this ricotta with a gallon of low-fat milk and omit the cream.
Rennet loses strength over time. Replace liquid animal rennet that is older than one year; replace liquid vegetable rennet after six to nine months.
NotesFor liquid rennet and ricotta draining baskets:
New England Cheesemaking Supply Company
P.O. Box 85
Ashfield, MA 01330
413-628-3808
www.cheesemaking.com
For ricotta affumicata:
www.igourmet.com
877-446-8763
Makes4 to 5 cups, about 2 pounds (900 grams)
CostInexpensive
Total Timeunder 4 hours
Make Ahead RecipeYes
Dietary Considerationegg-free, gluten-free, halal, kosher, peanut free, soy free, tree nut free, vegetarian
Ingredients
1 gallon (4 liters)

whole milk

¾ cup (180 milliliters)

heavy cream

2 teaspoons

kosher salt

1 teaspoon liquid

vegetable

or animal rennet (see Notes)
Two 2½-cup (600-milliliter)

ricotta

draining baskets (see Notes) or a fine sieve with a 6-cup (1½-liter) capacity
Instructions
Put the milk and cream in a heavy-bottomed pot and stir to mix well. Warm the mixture over moderate heat. Remove from the heat as soon as the milk begins to foam and climb toward the top of the pot. The temperature of the milk will be 200°F to 210°F (95°C to 100°C).

Pour the milk into another pot to leave behind any scorched milk adhering to the bottom of the pot. Add the salt and stir to dissolve it.

Let the milk cool to 100° (38°C), which takes about an hour. (You can speed this process considerably by placing the pot in a bath of ice water.) Skim any foam or skin that forms on top of the milk as it cools. In a small bowl, mix the rennet with ¼ cup (60 millimeters) cold water, then stir the diluted rennet into the pot. Let stand undisturbed until the milk has visibly thickened, about 10 minutes.

With a wooden spoon, cut a large "cross" in the milk. Stir quickly with a wooden spoon for 15 to 20 seconds to break up the coagulated milk. Using a perforated metal skimmer immersed in the milk, slowly and gently stir in one direction-so slowly that it takes about 20 seconds to make one revolution. You will see the milk begin to separate into curds and whey. Continue the slow, gentle stirring with the skimmer, moving the curds toward the center of the pot, until you have gathered a big pile of curds with whey surrounding them. (The whey may be dotted with bits of curd.) This process can take up to 5 minutes.

Slowly and gently pour off the whey, either directly into the sink or, if you want to catch every stray curd, into a cheesecloth-lined colander. Disturbing the curds as little as possible, fill the ricotta draining baskets or the fine sieve spoonful by spoonful, mounding the curd in the baskets if necessary

If using ricotta draining baskets, set them in shallow plastic containers or on a tray to drain. If using a sieve, set it over a bowl to drain. Let stand at room temperature until the whey stops dripping from the baskets or sieve, about 2 hours, emptying the drained whey several times. The ricotta can be used immediately or refrigerated for later use. If the ricotta is in baskets, nestle the baskets in another container to catch any dripping whey, and cover the top with plastic wrap. To use, remove the plastic and invert the basket onto a plate. If the ricotta is in a sieve, invert the ricotta into a plastic container, cover, and refrigerate. The ricotta is best used within 2 to 3 days.
2010 Rosetta Costantino and Janet Fletcher
YOUR RECENTLY VIEWED RECIPES
Free recipes, giveaways, exclusive partner offers, and more straight to your inbox!

Report Inappropriate Comment
Are you sure you would like to report this comment? It will be flagged for our moderators to take action.
Thank you for taking the time to improve the content on our site.