Change language / Schimba limba:


Română
Craving a delicious comfort meal with eggplants? Try Imam Bayildi – baked stuffed eggplants with a delicious meaty stuffing. 
In case, you are a vegetarian or simply want to eat a whole and hearty veg dish, vegan Imam Bayildi is what you need! This delicious stuffed eggplant recipe is an ancient Ottoman recipe, with its history dating back to the 17th century. Imam Bayildi is a very popular dish in Turkey, Bulgaria, Macedonia, Israel, Greece, Armenia, Albania and several Arab nations.
Imam Bayildi is made of whole eggplants, cut in half and stuffed with chopped onion, garlic and tomatoes, simmered in olive oil. The original recipe contains a lot of olive oil and sometimes even ground meat is added to the stuffing.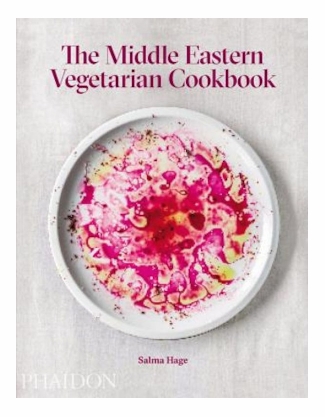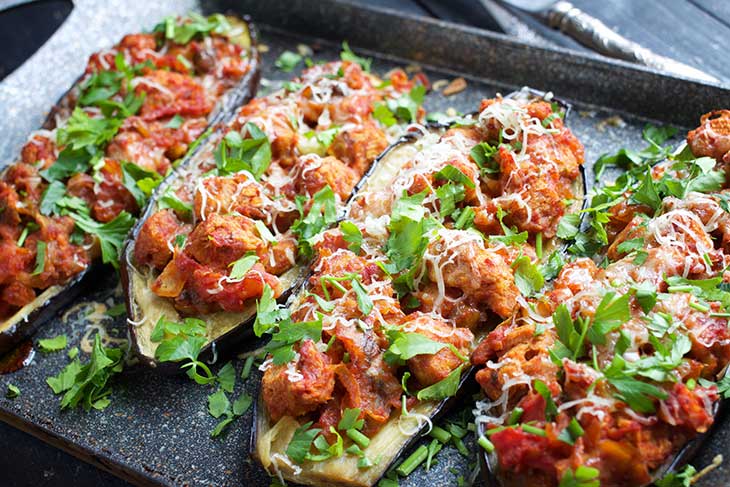 There are some funny stories behind the dish. It is said that it all began with a Turkish Imam. He was swayed away by the taste and the flavor of the dish that was cooked by his wife, but when he found out the price of the ingredients and the amount of the olive oil that was used to prepare it, he fainted! Hence, the name which in translation literally means fainted imam. 🙂
There is also another variant of the origins of this recipe. An imam was marrying the daughter of an olive oil merchant. Her dowry included twelve jars of the best olive oil. His wife then prepared stuffed eggplant with tomatoes, onions and olive oil every evening. It was on the thirteenth day when the wife didn't cook the recipe. She informed the imam that there was no more olive oil. On hearing the troublesome news, the imam fainted.
Despite the funny folktales behind the origin and the name of the dish, there is no doubt to the fact that Imam Bayildi is a delicious comfort recipe enjoyed all over the world.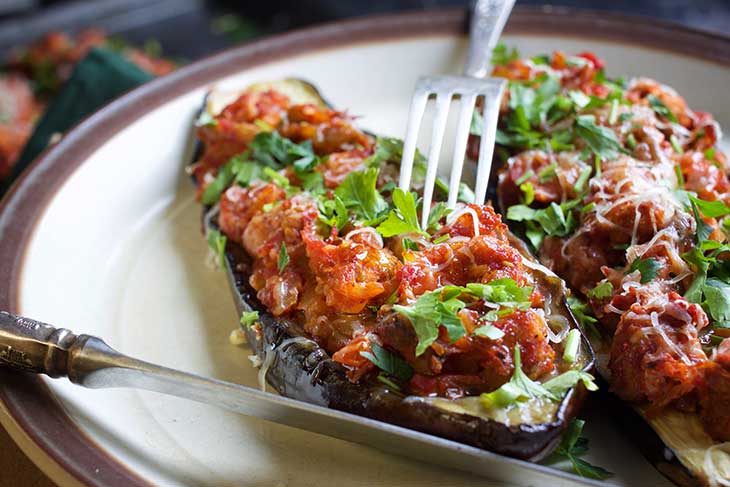 Inspired by this amazing Middle Eastern recipe, I decided to adapt it slightly and make my own version. I wanted to give it a meatier texture, so I used some soy cubes in the stuffing. I would recommend using soy granules, but at the time I didn't find any at the nearby supermarket. You can also add chopped mushrooms or cubed tofu, for some extra proteins. 🙂 Also, I didn't add industrian quantities of olive oil It turned out just as good this way too, with less oil and less frying.
Hope you'll enjoy making and eating this flavorful Turkish recipe. Don't forget to leave me a comment if you give it a try and tell me how it turned out!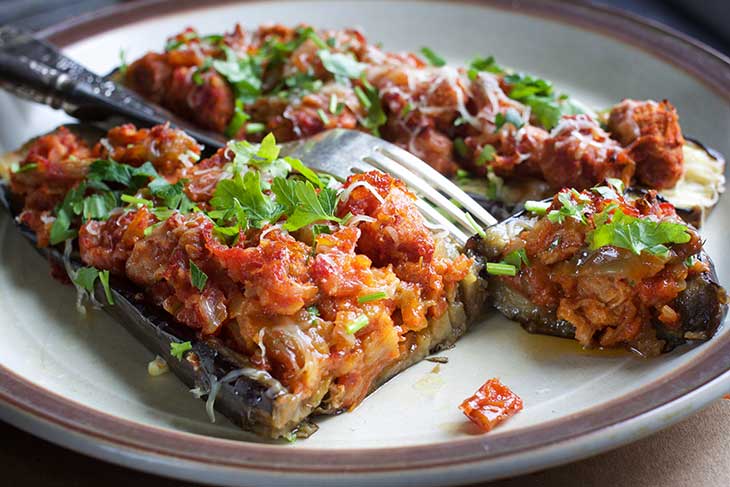 Prep Time
10 minutes
Cook Time
40 minutes
Total Time
50 minutes
Ingredients
2 medium eggplants
juice of ½ lemon
shredded vegan cheese
For soy "meat":
50g ( ½ cup) textured soy protein granules , I used chunks, but granules are better
500ml (2 glasses) hot water
For the stuffing:
2 medium onions, chopped
4 Tbsps olive oil
2 garlic cloves, crushed
4 medium tomatoes, peeled and chopped
4 Tbsp chopped parsley
½ tsp mint, dry
1 Tbsp paprika
1 tsp ground cumin
1 tsp garlic powder
salt and pepper to taste
Instructions
Preheat oven to 200C/400F.
In a bowl, mix all the ingredients for the soy meat, and let the TSP granules soak for about 10 minutes.
Drain them and set aside.
In a large frying pan, saute the onions in 3 Tbsps of oil. Add the rest of the stuffing ingredients, plus the soaked soy granules.
Cook stirring occasionally, for 10-15 minutes.
Cut each eggplant in half, lengthwise.
With a spoon or a knife, carve into the flesh of each eggplant and some of the pulp, making a hole for the stuffing.
Place the eggplants halves on a baking tray covered with parchment paper.
Add the veggie-soy stuffing in each half.
Drizzle with the remaining oil and lemon juice.
Bake for 30 minutes, or until tender. Optional – serve with grated vegan cheese on top.
Nutrition Information
Yield
2
Amount Per Serving
Calories 608Total Fat 30.2gCarbohydrates 62.7gProtein 21.2g
vegan cheese (optional)" />