Homemade herb biscuits, a perfect runny yolk, flavorful sausage … this Sausage Egg Biscuit breakfast sandwich is ready to kickstart your morning.
This Sausage Egg Biscuit recipe was created in partnership with Jones Dairy Farm, for whom I am a blog ambassador. All opinions are my own.
When I was pregnant with Paige, I was all about the breakfast sandwich — especially with runny yolks. But whenever I would order one in my office cafeteria, the cook would break the yolk when cooking — on purpose.
Big bummer.
Now, look, I know that people generally don't want to get messy eating breakfast, but when it comes to breakfast sandwiches I like my yolks runny. Buttery and thick, there's something about Finally, frustrated and pregnant, I asked the cook if he could please not break my yolk. He didn't anymore.
So this sandwich? It's like heaven. I love that creamy, rich runny yolk, which I have learned to break before eating so that I can dip my sandwich into it. I highly recommend trying this method. Coupled with the juicy sausage patty and herb biscuits dotted with herbes de provence, it's a hearty bite perfect for mornings.
Of course, if you aren't totally gah-gah for runny yolks like me, you could totally make this sandwich with scrambled eggs instead. But I think over easy is the way to go. Always.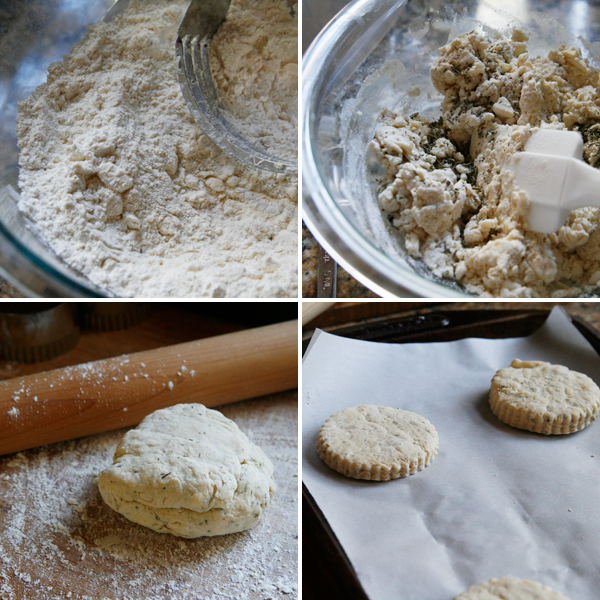 These sandwiches start with homemade herb biscuits, which are really super simple to make — just mix, knead, roll and cut. Oh, and bake. If you have never made biscuits before, I urge you to give them a try. It might seem a little daunting, but once you make them you'll see that it's really not. At all.
These babies are dotted with fragrant herbes de provence, which is a mixture of dried herbs commonly used in the Provence area of France — typically savory, fennel, basil and thyme.
For these sandwiches, I used Jones Dairy Farm Quick'n Easy All Natural Fully Cooked Sausage Patties, which are so quick to heat and serve right from the freezer. These patties make creating delicious homemade breakfast sandwiches so simple that it's doable pretty much anytime.
And that brings me to a really exciting announcement. I've recently agreed to be a blog ambassador for Jones Dairy Farm, a family-owned company that creates a variety of pork products like sausage and bacon. I was so excited for this opportunity since Jones sausage was always a must for special breakfasts in our house.
And their bacon? It's pretty amazing too. I can't wait to share more recipes with Jones products over the coming months and hope you will love them too.
Ingredients
1 cup all-purpose flour
1/2 tsp kosher salt
2 tsp baking powder
2 tbsp cold unsalted butter, cut into pieces
1/4 cup plus 2 tbsp milk
1 tsp herbes de provence
1 tsp salted butter, melted
4 large eggs
1 box Jones Dairy Farm Quick'n Easy All Natural Fully Cooked Sausage Patties, 4 patties
Instructions
Preheat the oven to 350 degrees. Line a baking sheet with parchment paper.
In a large bowl, sift together the flour, salt and baking powder. Using either two knives or a pastry blender, cut the cold unsalted butter pieces into the flour until it looks like small lumps. Stir in the milk and herbes de provence until just combined.
Turn the dough out onto a floured board and knead with floured hands until the dough is sticky and smooth. Roll out to 1/2-inch thick with a floured rolling pin. Use a 3-inch biscuit cutter to cut out four biscuits. Place on the baking sheet.
Bake the biscuits for 14-16 minutes, until the biscuits have risen and are dry to the touch. Using a pastry brush, bathe the biscuits with the melted butter. Broil for 1-2 minutes, until golden. Remove from the oven immediately.
While the biscuits are cooling, cook the eggs (over easy!). Heat a nonstick skillet over medium heat. Cook one egg at a time, flipping once, until the whites are set.
Meanwhile, cook the sausage patties according to package directions.
To serve, slice open the biscuits and place one sausage patty and one egg over easy on each one. Enjoy!
Nutrition Information:
Yield: 4
Serving Size: 1
Amount Per Serving:
Calories: 272Total Fat: 14gSaturated Fat: 6gTrans Fat: 0gUnsaturated Fat: 6gCholesterol: 210mgSodium: 674mgCarbohydrates: 25gFiber: 1gSugar: 0gProtein: 11g
---
 Disclosure: I was compensated for creating this recipe, but all opinions are my own.