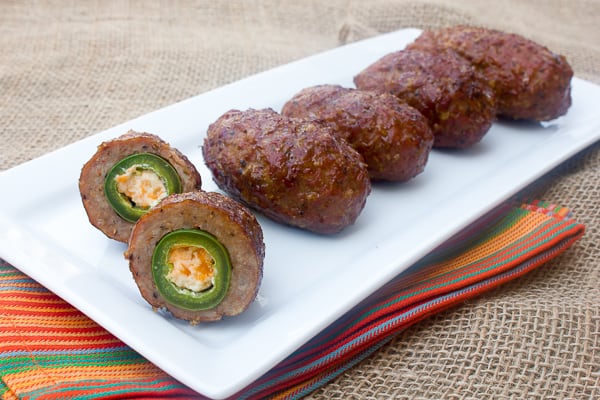 Jalapeno poppers are one of my favorite appetizers and they are the perfect game day party food. The combination of the spicy crunch of the pepper and gooey cheesy center make for a perfect combination. It is also possible to create variations to the poppers and the possibilities are almost endless.
Here are some of my jalapeno popper recipes
Chorizo Stuffed Jalapeno Poppers
Sweet Pepper Bacon Poppers
Bacon and Cheddar Jalapeno Poppers
Crawfish and Cheddar Jalapeno Poppers
Atomic Buffalo Turds
Pulled Pork Atomic Buffalo Turds
All of those are amazing, but this recipe might just climb to the top of the list as my favorite! Smoked armadillo eggs are not an egg at all. Instead, they are a jalapeno popper wrapped and covered in sausage meat.
Oh yeah!!
I smoked these, but they could also be done on the grill set up for indirect grilling. These take a little while to cook and direct grilling would likely burn them.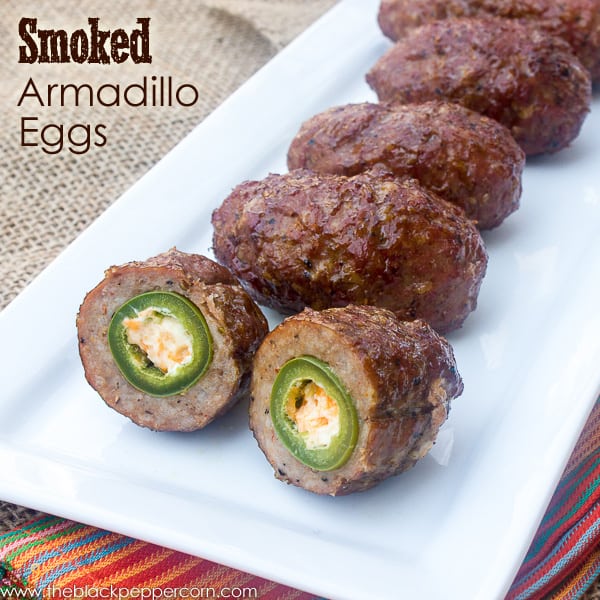 The size of the jalapeno peppers varies dramatically, so the amount of meat that is needed to completely cover the peppers will also vary. Therefore, by following this recipe, you may get more or less that five armadillo eggs made.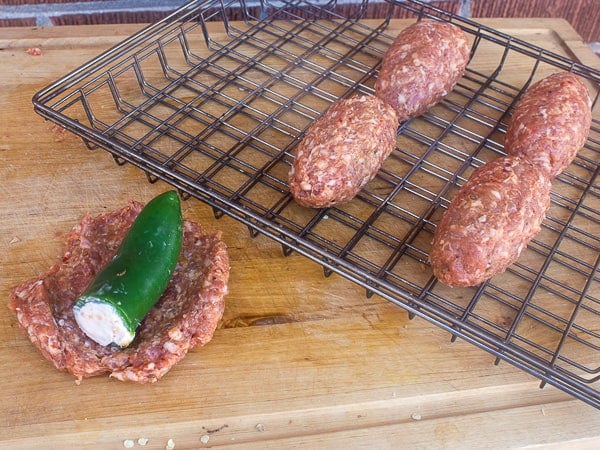 Core the jalapeno peppers and stuff them with the mixture of cream cheese and grated cheddar. Take a handful of sausage meat and flatten it similar to a burger patty. Place the stuffed pepper on the meat and wrap the meat around the pepper. Make sure that there are no parts of the pepper showing.
There are many different types of sausage meat with different flavors. Any of these would work fine: Italian mild, Italian hot, breakfast, honey garlic, etc.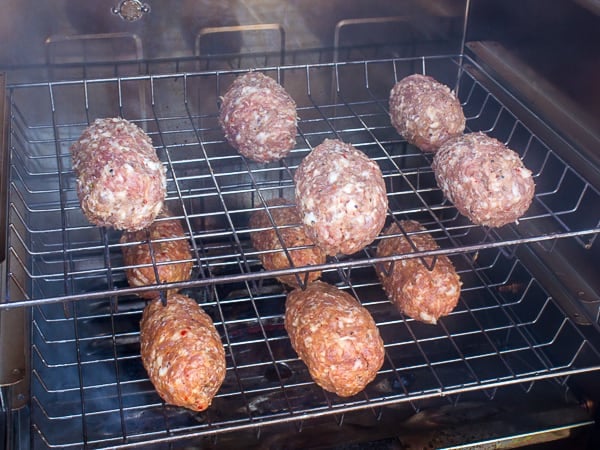 I fired up my Bradley Smoker for making these armadillo eggs and used hickory wood, but other wood like pecan, maple and apple would work great as well. The armadillo eggs took a good couple hours in the smoker. The outside was nice and browned and the cheese was just starting to bubble out of a couple of the eggs. I used my Thermapen to check that the meat was at 160F so I knew they were done.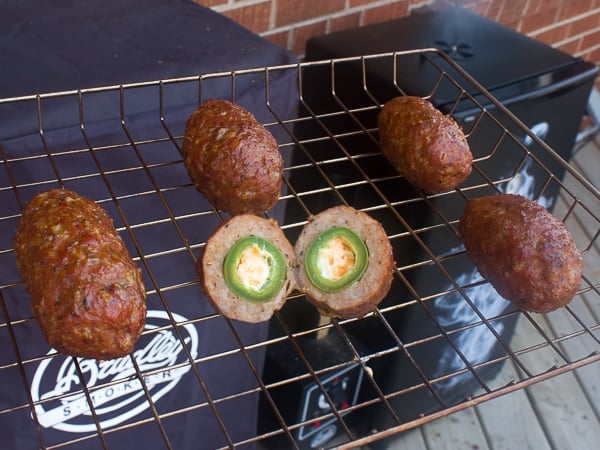 Smoked Armadillo Eggs
Jalapeno poppers wrapped in sausage meat and then smoked or grilled on indirect heat. Big Green Egg, Traeger, Kamado, Similar to Atomic Buffalo Turds, ABT. Use cream cheese, cheddar cheese, and Italian sausage meat or Jimmy Dean. 
Prep Time: 15 minutes
Cook Time: 2 hours
Total Time: 2 hours 15 minutes
Servings: 5
1

pound

sausage meat

(mild, spicy, breakfast, honey garlic, etc.)

5

jalapeno peppers

1/2

brick cream cheese

(4 oz)

3/4

cup

grated cheddar cheese
Start up smoker and get it up to 250F. You could use many different types of wood for this, although I usually use hickory, pecan, or apple.

Cut the top off the jalapeno pepper. Core the pepper to remove the seeds and membrane.

Mix together the cream cheese and grated cheddar.

Fill the cored peppers with the filling.

Take some of the sausage meat and wrap it around the pepper. Make sure none of the pepper is visible. Roll it so that it is in the shape of an egg.

Place the armadillo eggs on a smoker rack and place in the smoker.

Smoke for about 2 hours. You want the temperature of the sausage meat to be 160F. Also if you notice cheese starting to bubble out of the eggs, it is likely done.

Serve.
Grill Method – Setup grill for indirect heat and bring up to 325F. Place armadillo eggs on the indirect side and cook for about 30-45 minutes.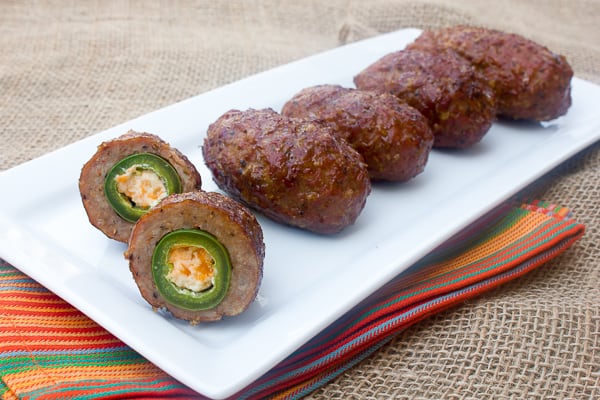 Subscribe to the newsletter and never miss a recipe!