Recipe: tea jellies
When thunderstorms rage overhead, I try not to work on the computer. So this afternoon I busied myself in the kitchen cleaning the dishes listening to the sound of hail pounding on the deck and roof of the house. It lasted a little longer than anticipated and I wound up digging through the cupboards, looking for something to trigger an idea.
Summer calls for refreshing food, which is why I love salads, fruits, cold dishes, iced drinks, and jellies. A child of the 70s, I actually ate a lot of Jello&trade, not jellies. Although I did eat almond gelatin with fruit, grass jelly, and lemon agar jelly – all Chinese desserts, I didn't get the full scope of Asian jellies available to the masses until I began frequenting Asian grocery stores in college. These days you'll find an assortment of tiny jelly cups with a piece of jackfruit suspended in the matrix. They are delicious and apparently deadly if swallowed incorrectly. I imagine that would apply to almost anything though.
Jeremy is the tea drinker in the house. I typically limit myself to hot drinks between the months of December and March, otherwise I feel it's just too hot. One of his recent favorites is the Trader Joe's pomegranate white tea. Now I'll bet you can guess where this is going… I brewed some teas to make jellies. They're just so pretty.

pomegranate white tea and organic chinese green tea jellies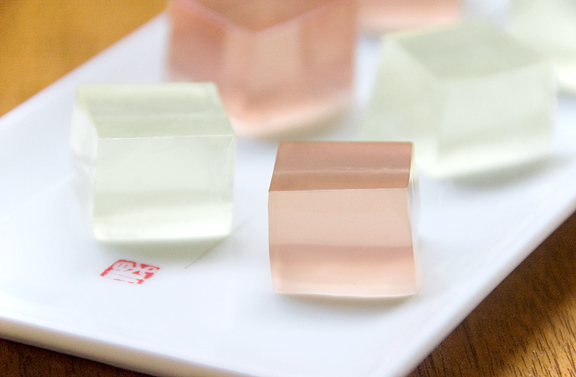 I wanted *greentea jellies, but that will have to wait until I procure some matcha. But the pomegranate white comes out a nice shade of pink. If there are vegetarians in the midst, then you can use agar, which is derived from seaweed… because gelatin comes from animals. The flavor is delicate and refreshing.
Tea Jellies

[print recipe]
1 cup water, boiling

enough tea to make a strong cup

scant 1/4 cup sugar

1 envelope (or 2 sheets) of gelatin
Steep the tea in the hot water until desired strength (much stronger than you would drink it, but not bitter). Stir in sugar until dissolved. Sprinkle powdered gelatinover the hot tea and stir until completely dissolved. Pour into vessel(s) and refrigerate until set.
*If using sheets, soak sheets in cold water in a bowl. When sheets are softened, add to hot tea and stir until dissolved.
On another interesting note, I was listening to a recent Fresh Air interview where the discussion turned to Casu Marzu, a type of illegal Italian cheese. *shudderAnd I thought Stilton sounded bad…

July 12th, 2007: 10: 42 pm

filed under caffeine, confections, recipes