Here's how you can make the popular Italian chicken cacciatore recipe – vegan! Try this delicious vegetarian cacciatore that tastes and looks just like the real deal!
Cacciatore actually means "hunter" in Italian and the popular dish with the same name is a stew cooked "hunter-style" with herbs, onions, tomatoes, bell peppers, wine and a type of meat.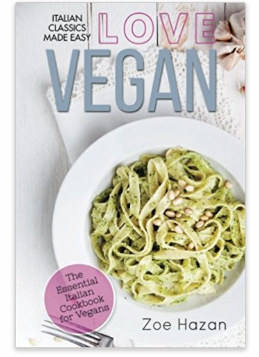 Cacciatore is traditionally made with chicken or rabbit, but there are other variations to the authentic recipe too, like salamino cacciatore made with salami. Even though this is a meat-based recipe, it doesn't mean it can't be easily veganized! 🙂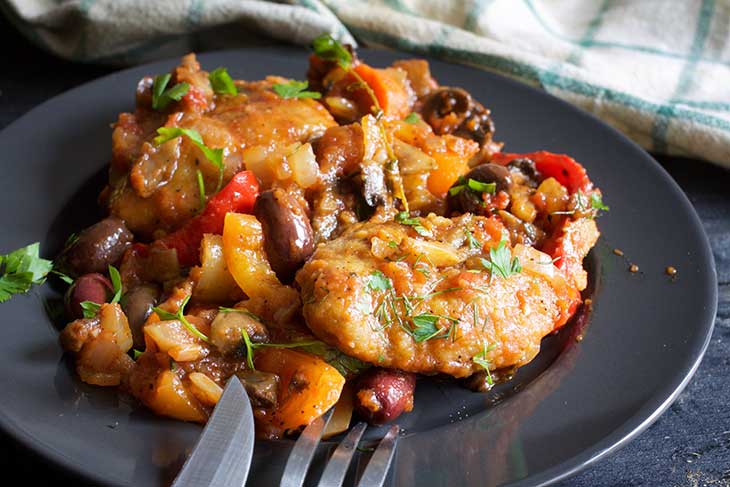 TSP is pretty amazing if you want to replace meat in different recipes. I used textured soy protein slices to make this vegetarian cacciatore and just look at the photos…you can't even tell it's vegan! It looks just like the authentic chicken cacciatore recipe!
To make TSP taste better I let the slices soak in some spiced water + veggie broth mix for an hour, then pan-seared them for a slightly-crispy "skin".
The rest of the recipe is just like the traditional Italian dish, I used mushrooms, onions, peppers and other veggies, plus some olives and red wine. The sauce is simply bursting with appetizing fragrances and the texture doesn't disappoint! I bet you could trick an omni to believe this is made with meat. 🙂
Hope you'll give this recipe a try and let me know how it turned out! I'm sure you'll love it! 😀
P.S. You could eat like this every day. Check out my meal planner! Don't forget about the Spring Discount – 25% off for Yearly Plans!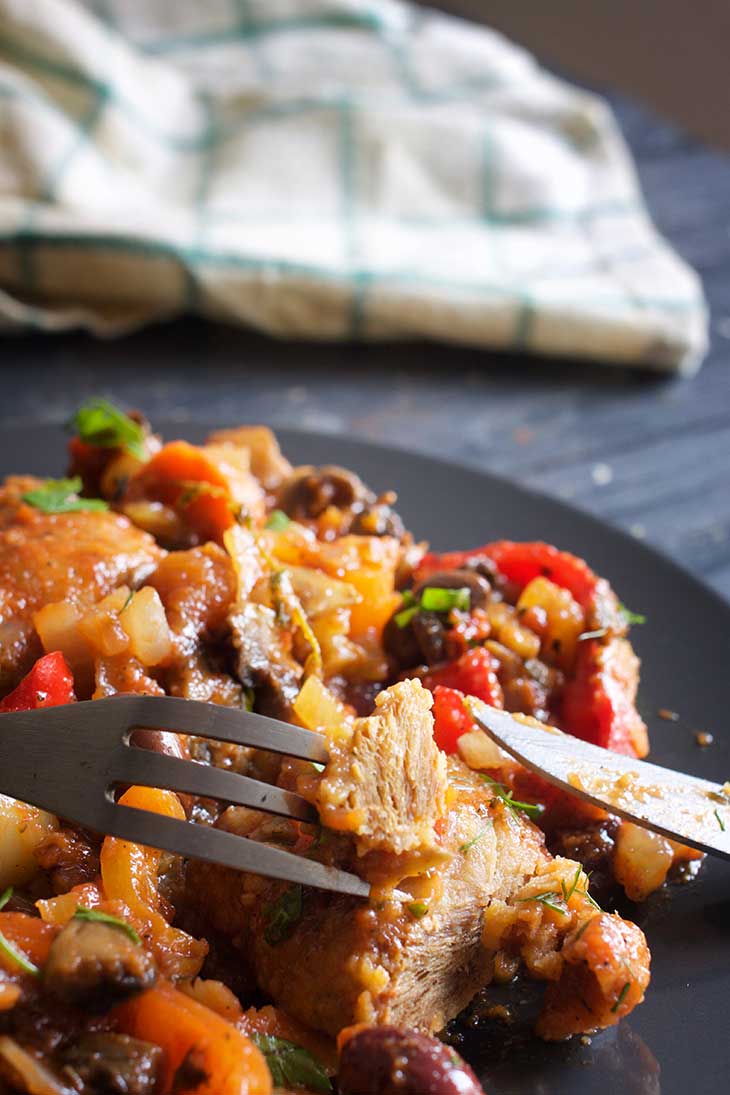 Prep Time
10 minutes
Cook Time
40 minutes
Inactive Time
1 hour
Total Time
1 hour 50 minutes
Ingredients
For the "chicken":
100g (1 cup) textured soy protein, slices
240ml (1 cup) vegetable broth
240ml (1 cup) hot water
½ tsp salt
½ tsp ground pepper
½ tsp smoked paprika
½ tsp garlic powder
½ tsp onion powder
¼ tsp chili powder
½ tsp coriander
½ tsp mustard powder
1 tsp brown sugar
⅓ tsp cumin powder
For the cacciatore sauce:
1 Tbsp olive oil
1 onion, sliced
6 garlic cloves, minced
1 yellow bell pepper, sliced
1 red bell pepper, sliced
1 large carrot, peeled and sliced
200g (2 cups) mushrooms, sliced
a handful of pitted kalamata olives
1 Tbsp chopped basil leaves
1 tsp dried oregano
120ml (½ cup) red wine
240g (2 cups) crushed tomatoes
1 Tbsp tomato paste
½ tsp chili powder
salt and pepper, to taste
Instructions
For the vegan "chicken":
In a medium pot, combine hot water with spices and veggie broth. Soak the TSP slices in this liquid for at least an hour.
In a nonstick pan, over a medium heat, cook the TSP slices on both sides, 3 to 5 minutes each, until lightly golden. Set them aside.
Make the cacciatore sauce:
Heat the olive oil in a large skillet, over medium heat.
Add the onion and cook it for a few minutes, until translucent. Add the garlic and saute for a few more minutes.
Add the mushrooms, carrots, bell peppers and cook them for about 10 minutes.
Add the TSP slices, wine, basil leaves, oregano, and olives. Let them simmer for a few minutes. Stir everything to combine and continue cooking. Add crushed tomatoes, chili powder, salt and pepper and stir in the tomato paste. Cook for 5 minutes, stirring occasionally to incorporate the flavors. Top with some fresh herbs and serve.
Nutrition Information
Yield
6
Amount Per Serving
Calories 151Total Fat 3gCarbohydrates 20gProtein 11g